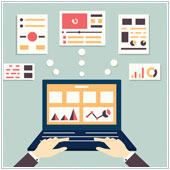 There are various applications created to be used on Mac computers. Some are for personal use while others are aimed at businesses, with various apps suitable for both. If you have your own business, you'll find some applications helpful in managing various functions like communication, document creation, etc. What's more thrilling is that you can get some of these apps for free!
It's worthwhile exploring which apps are available and suit your business purposes. To get you started here are four great free apps for your Mac.
Mac computers can be set to automatically dim the screen, go to sleep or start a screen saver in order to save power if there's inactivity for a certain period. While this feature has its benefits, there are times when you may need your screen to be on without moving the mouse or typing on the keyboard. For instance, you may be watching a video that is related to your business or doing a business presentation.
Caffeine is a small and simple application that you will find useful in these situations. Clicking the app enables your screen to remain on even when inactive. Clicking the app icon disables the app, enabling your original system settings to prevail. While you can adjust the settings of your computer via your system preferences, it's much more convenient to enable and disable the option on the menu bar just by clicking the app's icon.
One of the most important factors in any business is timely communication with clients, business associates, and employees. One of the most common ways to communicate these days is through instant messaging (IM). The problem is, people use different messenger applications. If you have different messenger accounts, there's no need to launch each of the messaging applications. Use Adium to access your different accounts through one app.
Adium supports several messaging programs, including Yahoo, Google Hangouts, Windows Live Messenger, AOL Instant Messenger, and Facebook. Connect your various accounts and choose which you wish to enable and disable when you sign in. File transfer is also supported, though it's not always successful. But chat in general is not a problem.
File sharing is another common need when running a business. Various files are sent back and forth to different people and it can be a challenge to keep track of which version you are on. This is why you need a convenient way to share files on your Mac, and that's exactly what CloudApp offers. It has a Web version that can be accessed via your browser, though it's recommended to have the app installed on your computer.
Once installed, an icon is created on your menu bar which you can click to access your preferences. File sharing is fast and easy. Drag and drop the file on the CloudApp icon on the menu bar and it creates a download link to your clipboard. Copy the link and send it via e-mail or chat.
If you are using different storage methods or sites to save files, it can be difficult to find a specific file you need. Found is the answer to this problem. Connect it with your various accounts, including Dropbox, Google Drive, Gmail, Evernote, and Skydrive. When you search for a specific file on Found, it will look not only on your Mac computer, but on the connected accounts as well.
Get these Mac apps now and benefit from a valuable boost to your device. Considering they're free there's no reason why you shouldn't have them! If you are looking to learn more about using Apple products in your office, contact us today to see how we can help.