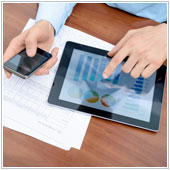 Since the launch of the iPad one of the most commonly requested business oriented apps has been Microsoft Office. While there are apps that can open and edit various Office apps on the iPad they often lack the finish and overall functionality/formatting of official Office apps. Some users were starting to lose hope that they would ever see iPad specific Office apps. However, Microsoft has delivered their wish with recently released Office apps that are optimized specifically for the iPad.
Wait isn't that Microsoft Office Mobile?
Earlier last year Microsoft introduced Office Mobile for Office 365 subscribers. With this app users could access, create, and edit Office documents on a mobile device. The only issue with this app is that it is optimized for smaller screens e.g., the iPhone. While it is possible to use it on your iPad, optimized apps specifically for the iPad have until now been lacking.
In late March this year, Microsoft finally released iPad specific versions of Word, PowerPoint, Excel, and OneNote. Anyone with an iPad Mini, iPad 2,4, and Air can download the apps for free from the App Store and view any related Office documents on their device.
How Office for iPad works
The best way to think of these apps is that they are simply touch versions of the popular Office programs that have been developed specifically for the iPad. Here's four things you should know about the apps:
They're free – Currently the Word, Excel PowerPoint, and OneNote apps are available to download for free from iTunes. It is highly likely that more apps will be coming soon.
The program links closely with your OneDrive account – OneDrive was SkyDrive until Mid February when Microsoft renamed their cloud storage service, thus allowing you to create documents on the desktop version of Office and then save them to your OneDrive and work on them on your iPad.
Document formatting is supported – The iPad versions of the apps have the same formatting features as the desktop versions. Any formatting changes you make to documents on the desktop version can also be made on the iPad.
Excel has a unique number pad – Many iPad users don't have a keyboard, and the numbers on the stock iPad keyboard require a number of button hits to reach. To increase usability, Excel on iPad has a special numerical keyboard.
Two caveats
We noted above that the apps are available for free. While this is correct, you will only be able to open and view documents. If you want to edit you will need an Office 365 subscription. The following Office 365 plans will allow you to open, edit, and save documents:
Office 365 Home
Office 365 Small Business Premium
Office 365 Midsize Business
Office 365 Enterprise E3 and E4
Office Education A3 and A4
Office 365 ProPlus
Office 365 University
Office 365 trial subscriptions
While the vast majority of features found on desktop apps can also be found on the iPad versions, there is one missing – for now: Printing. At this time, printing documents directly from the app is not supported. Microsoft notes that they are working on this and that this function will be introduced in a future update. For now however, your best option is to save files to OneDrive and then open these on your desktop and print from there.
Getting the apps set up on your iPad
If you have an Office 365 subscription getting the apps setup may be a little confusing. Here's how you can do it:
Download the apps from the App Store. (Make sure you have enough free space on your device). You can find the apps by opening iTunes and searching for: Office for iPad. Note: You will need to download each app separately.
Open the app and you should be asked to log in using your Microsoft account. If your business uses Office 365, or if you have an Office 365 account, enter your username and password as you usually do to access the Web and your email.
If you choose to log in using a free account to begin with, you can upgrade to an Office 365 account from the app. This can be achieved by opening the app, and clicking Activate which should be located at the bottom left of the main menu. You can then follow the app's steps to purchase an Office 365 subscription through iTunes. Alternatively, you can go to the Office 365 website and subscribe through here. Once you open the app, after your account has been updated, you should be able to access, edit, save, and share documents.
Should I get this app?
Office 365 is one of the most popular versions of Office for small to medium businesses, and many users are wondering if they should download the app to their iPad. The answer to that is that it depends on whether you want to use your iPad for work or not.
Generally speaking, business owners who have an iPad and Office 365 subscription will benefit from downloading this app. The main reason is because it offers another way to connect with the office and potentially increase productivity, especially when you are away from your desk, through greater flexibility.
If you don't have an Office 365 subscription but use Office in your business, the iPad versions of Word, Excel, and PowerPoint could be useful, especially if you only need to view documents. That being said, you might want to consider updating to Office 365 in order to gain full access.
Contact us today to learn more about the different plans available for your business.