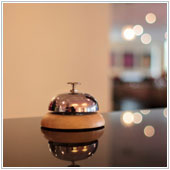 Are you burning the candle at both ends when it comes to managing your medical practice? Consider partnering with a business process expert. While you're busy caring for patients, we can be busy ensuring that your practice is productive and profitable.
A business process expert such as gloStream, who offers gloCierge, can be viewed as a manager of your business operations. At gloCierge, our team uses benchmarking tools to measure your practice's performance, then develops personalized services that make a real difference. These may include changing workflows, helping you better align resources, or providing counsel on how to code more appropriately, for example.
Case in point: One of the only pulmonologists in southwest Oklahoma. After implementing gloStream's electronic health record (EHR), he wanted to ensure he was billing with the right codes, thereby improving collections and maximizing revenues. After a thorough review of the doctor's billing operations, the gloCierge team determined that the doctor's accounts receivable were higher than industry norms. With gloCierge's help, the doctor reduced accounts receivable by 83 percent over 120 days.
At gloCierge, our team is committed to helping you do whatever it takes to get you performing at your full potential. We'll inspire you with new ideas and ultimately help your practice thrive through the changes taking place in healthcare today.