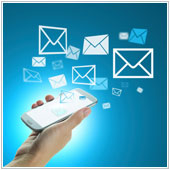 The smartphone is really more mobile computer than actual phone, especially with the ever increasing number of apps and features available on many models. That being said, they are still the main communication tool for people. Many businesses rely on the SMS or text, and with Android phones, especially new ones, it may be tough to figure out where exactly you can find these messages.
On the vast majority of Android devices there is more than one app that supports text messages. Here is an overview of the apps and how you can find text messages on your Android device.
The stock 'Messages' app
On almost all Android devices, especially those that use what's called an overlay (the device manufacturer's take on Android), there is the stock Messages app. When you first set up your phone, this is the app that will allow you to view and send messages by default.
Most devices already have a shortcut to this app on your device's home screen, usually in the drawer at the bottom of the screen. It usually looks like a speech bubble or an envelope with the words Messaging below it.
Tapping on this app will open your text messages allowing you to read, send and reply to any messages. If you can't find this app, try:
Clicking on the Apps icon on the bottom of your phone. It is usually represented by two rows of grey dots.
Looking through the apps that come up. You are looking for an app with any of the icons listed above, or is called Messaging or SMS.
Tapping on the app once you find it.
If you like, you can press on the app's icon for a second or two and then drag it to your device's Home Screen in order to place a shortcut there.
Google Hangouts
On new Google Nexus devices – especially the Nexus 5 – you probably won't find a messaging app. That is because Google has eliminated it, instead turning Google Hangouts into the new text messaging app.
Hangouts started as the instant messaging platform of Google+ and was then introduced as the new version of Google Chat, and finally the messaging platform on Google devices. In other words, Google Hangouts is the one app for instant messaging and texts across Google's platforms.
If you have the Hangouts app installed on your device, your text messages should show up when you open it. If you can't find your messages/would like to use Hangouts as your SMS app you can do so by:
Opening Hangouts and signing in (if you need to) using your Google account.
Pressing the three vertical squares at the top-right of the screen.
Selecting Settings followed by SMS.
Tapping on SMS Enabled followed by Default SMS app in the window that opens.
Selecting Hangouts.
Your text messages should show up within a few seconds in the main hangouts messaging screen.
Which should I use?
This is a question some users have asked, as it can be slightly confusing as to which app they should be using. The true answer to the question is either! The stock apps, and Hangouts both offer full text messaging capabilities, it really comes down to which you prefer. Some apps present SMS messages in a clear and easy to read manner which some people prefer over Hangouts, while Hangouts is preferred by others, especially Google users.
If you are looking to learn more about the features of your Android phone, contact us today to see how we can help.