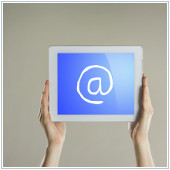 Microsoft Office comes with various desktop programs, including Outlook, which can be used to access your office e-mail accounts, as well as managing your calendar, tasks, and contact information. It can also be accessed on Android tablets by downloading the Outlook.com app. The syncing of contacts and calendar is also supported.
Add Outlook.com to your tablet
The Outlook.com app was developed through a partnership of Microsoft and SEVEN Networks. If you wish to install it on your Android tablet, you may download the application from the Google Play Store for free. You may also access the Web version of Outlook using your tablet's browser by going to Outlook.com. However, if you are looking for a better mobile experience, then the app is a good option.
Here's how you can add an Outlook.com e-mail on your tablet:
Go to Google Play Store and search for Outlook.com.
Tap Install to download and install the application.
Launch the app once installation is complete.
Sign in with your Outlook account. If your company uses Outlook in your office, use your usual email address or login name and password and it should work.
Tap Yes to allow app permissions.
Choose a nickname for the account and choose how much of each email you wish to see on your device, then tap Next.
Select if you wish to sync your device's contacts and calendar by tapping on the box next to this option. Tap Next. You should now be able to access your Outlook account.
It's also possible to add more email accounts on Outlook.com. Here's how:
If you're in your Inbox, swipe to the right to show your list of folders. You may also tap the arrow pointing left to go to the same screen.
Tap the up arrow on the left side of your account name.
Select Add Account.
Enter your new email account and save.
Outlook.com app features
The Outlook.com app had several enhancements added with its updates, improving user experience. Here are some of the more popular features.
Server-side search – the original Outlook.com app required that emails were downloaded on your phone first before being able to be found when doing a search. An update has been made allowing you to search for emails. even if they aren't downloaded to your phone.
Supports alias – messages can be sent to a different email address and come into the inbox of your primary account. Outlook's alias feature is available with the app.
More themes – blue is no longer the only color option for the app's theme. There are now 11 color themes to choose from, letting you personalize the application to your taste. These colors include pink, dark red, orange, light green, green, teal and light blue.
Unlimited mail download – downloading all messages in one tap is also possible so you don't have to select each message one by one, making it faster and more convenient to access your emails..
Vacation reply – managing vacation replies can be done from your app too, which is useful if you are away from the office and offline and need to reassure contacts that you haven't just gone off radar.
If you don't have Outlook.com app on your tablet yet, why not give it a try and start accessing your account anytime, anywhere.
For inquiries or any concerns that you may have with regards to the Outlook.com app, don't hesitate to contact us. Our support team is always ready and happy to help.