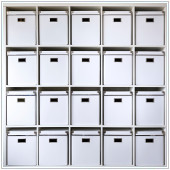 Google Drive, Google's cloud storage and document creation suite, is quickly becoming an integral tool for Google users and businesses around the world. Many use the service to store important files, information, and even link it with their mobile devices to store mobile data like pictures as well. The thing is, all of this requires storage space, and in true Google fashion, the technology giant has recently introduced changes to their storage allotments.
Overview of Google Drive's storage space
There have been a number of changes to the way Google allots space to those with accounts. Many of the apps used to have their own specific storage amount, but last year Google amalgamated all storage so that it is now based on your account.
Individual users get 15GB of storage space that is shared across all Google apps including Drive, Gmail, and Google+ Photos. Business accounts on the other hand get 30GB of storage space per user across the main Google apps.
While this is ample space for the majority of users, those with multiple Android devices or who use Drive for cloud storage (Google Drive files like Docs and Sheets don't count towards your storage amount) could find themselves running out of space fairly quickly. That's why Google allows individual and business users to pay an additional monthly fee for more storage.
Prior to the recent change, both business and individual users could pay USD $9.99 a month for 100 of storage, or USD $49.99 a month for 1TB (terabyte).
The big change
In mid March, Google announced a slight change to the two lower storage expansion tiers (100GB and 1TB). For both business and individual users, they dropped the price. Now, 100GB of storage space costs USD $1.99 a month.
For individuals and business accounts that require more than 1TB of space, you can purchase 10TB or more, starting at USD $99.99 per month for 10TB. For now, the maximum storage amount you can purchase is 30TB which costs USD $299.99 a month.
For users who already pay for storage, your bill should automatically be adjusted as of the launch of the change of prices – March 13, 2014.
How do I upgrade my storage?
If you would like to upgrade the storage for your individual account, you can easily do so by:
Logging into your Google account and going to Drive.
Going to the Storage settings page (https://www.google.com/settings/storage).
Clicking Choose under the storage option you would like to upgrade to.
Click Continue to checkout and follow the prompts to set up your payment.
For those with business accounts, you will need to be an administrator. If you are, you can purchase storage increases on a license basis. This mean that if you have 10 accounts and want to increase the storage on five, you will need to purchase five licenses. Once this is done, you can then assign these to the specific accounts.
If you are looking for help increasing the storage amount for your business accounts, contact us today to see how we can help.