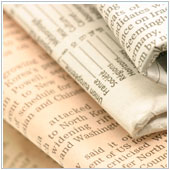 February this year was an important month for Facebook. First of all they celebrated their 10 year anniversary by presenting each user with their own video highlighting the best of their profiles. Then news broke that the platform was nearing 1.25 billion active users. Finally, the company launched a new mobile app – Paper – that changes the way you use the platform on your device.
What is Facebook Paper?
The mobile device is quickly becoming the main way people access their Facebook profiles. While some open the browser on their device and navigate to the website from there, most use the Facebook app. This app is really a smaller version of Facebook that is formatted for mobile devices.
While the app is heavily used, many users are unimpressed with the layout and general functionality of the app as a whole. It's really Facebook minus some functionality and a slight bit clunkier to navigate.
To address this and other issues the company launched a new division called Creative Labs, where teams can develop new ideas and features that could one day be incorporated into Facebook. One of the first major developments to come out of this division is Paper.
Paper is a new app for the iPhone that combines your traditional Facebook News Feed with something like an online newspaper. The whole idea of Paper is essentially Facebook reimagined into something that not only looks better but is easier to use.
How Paper works
When you download and open Paper using your iPhone you see a brief tutorial video of how the app works. Essentially, your Facebook Feed has been broken down into about 20 different categories, including: Headlines, Tech, Cute, Score, About, Photos, etc. Each section contains relevant stories and posts from your News Feed and from popular posts and publicaly shared content on Facebook. The posts are displayed differently and look more visually appealing.
These sections are then individually displayed in a horizontal manner, often with pictures and text, much like a mini article. For example, when you start the app you may be looking at the Headlines section and all relevant content. If you swipe to the left or right a new section will be brought up allowing you to view the content related to that new section.
What's cool about this app is that you are in charge of what categories you see. If you want to see the Headlines section (news headlines from around 40 sites) first, you just have to rearrange the sections. This is interesting because the app allows you to customize how you view Facebook.
Is Paper good for business users?
This app could be great news for businesses, largely because it gives them yet another avenue to have their content seen by users. The creators of the app want it to be content forward. In other words, content displayed in a visually appealing way that draws the eye and potentially increases interest. Businesses creating visually appealing posts will really shine on Paper.
Can I get Paper?
For now, Paper is currently only available for Apple's mobile devices and can be found on the iTunes store for free. Unfortunately, the app is only available to users in the US for the time being.
We are unsure as to when this app will be made available to more countries and devices, largely because the team developing this is small. We will undoubtedly see it come out in more countries and on other platforms but we can't say when.
If you are looking to learn about Facebook and how your business can get more out of it, contact us today.