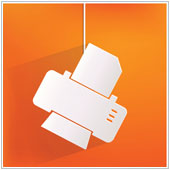 Considering how people are into the whole digital and cloud technology set up, many business owners are slowly forgetting the value of printers. Their thoughts are often completely shifted from actual paper documents, to different file extensions and online platforms. Which makes you wonder, what are the most common printer types in the offices nowadays? Which ones are mostly used?
These three printers below are the most common printers found in offices these days.
Multi Function Printers (MFP)
Multi Function Printers are also commonly known as all-in-one printers. With this type of device, your printing, scanning, faxing and photocopying needs are covered! These printers usually come in a variety of sizes with many being small enough to fit onto a small desk.
Aside from the multi function features that MFPs have, these are the common benefits that business owners can gain from this type of printer.
They take up less room.
They are usually lower in cost. Though it may seem expensive compared to the other types of printers, if you consider buying a fax machine, scanner, photocopier and a printer, you'll find that buying an MFP is actually a lot more affordable.
Inkjet Printers
Inkjets print documents by spraying ink onto paper, and can usually produce prints with a resolution of 300dpi (dots per inch) with some actually able to print documents as high as 600dpi. This makes them ideal for printing saller images and reports.
What most business owners like about inkjet printers is the fact that they are usually affordable, making them an ideal device for businesses that just want printers. Since most offices (if not all) have computers, you'll most likely see inkjet printers in the majority of offices. Here are some more benefits that people like about inkjet printers.
Fast printing speeds.
Can produce really high quality print.
Easy to use.
They can produce vivid colors.
Laser Printers
If there's one very notable feature that you'll love about laser printers, it would be the printer's capability of producing very high quality documents. In fact, laser printers can produce copies with a resolution of 600 dpi – 1200 dpi.
One of the main differences that laser printers have is the fact that they use toner (colored or black powder) instead of the inks that are used in most other printers.
Laser printers offer users many enticing benefits including:
Very high resolution.
Fast results.
High volume printing.
No smears at all.
What type of printer should my business get?
If you are looking for a new printer, it can be a little confusing as to which you should get. If you don't have a scanner or fax machine, it would be a good idea to look into a Multi Function Printer. Looking to print smaller or shorter documents or only occasionally? An Inkjet would probably be a better choice. If you need to print on a regular basis, or print in mass quantities a laser printer could be the best choice.
With all the types of printers available in the market, choosing a specific printer to use in your office can be quite confusing. If you need help in choosing which printer to go for, then give us a call and we'll give you our expert advice on the matter.