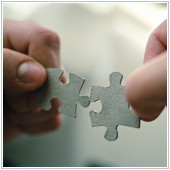 When you started your business, everyone was probably working in the same room – or at least the same building. Collaboration was a given, and communication didn't need much support.  As your business grows, a more dispersed workforce needs help to keep them connected. ERP can provide the foundation to share the information across departments that keeps employees working in synch.
Connect departments for better service
As your company has grown, with separate departments and multiple locations, it's more challenging to keep information flowing across the silos. A fully integrated ERP solution will connect sales, service, operations and accounting data to:
Give salespeople insight into real-time inventory and margin to help customers place orders that meet their needs.
Provide service reps access to field personnel schedules to provide real time updates and set customer expectations.
Allow production to see the in-stock inventory and items on order to reduce interruptions in manufacturing.
Give the shipping department insight into inventory across multiple locations to reduce transportation costs.
Collaboration builds efficiency
In addition to added customer service, connected systems make employees more productive. When workers can access contracts instead of requesting them from the accounting department, everyone saves time. With instant access to information across the organization, employee stay focused and solve problems more quickly. Build efficiency through:
Centralized contract management to allow sales, service and accounting to check terms.
The ability for service teams to bill for completed work directly from the field.
Easy access to parts availability and location, so that production and service teams can get the materials they need quickly.
Employees who are tightly connected to other departments and the information they need are more productive and deliver better customer service. Break down department silos and build collaboration with ERP.