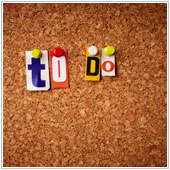 When it comes to productivity, many business owners rely on to-do lists. However, writing an effective to-do list can be quite a challenging task. Though a lot of people jot down their tasks for the day or week ahead they don't always fully realize the benefits of their list because it is either poorly crafted or even missing items. The result is decreased effectiveness. Hopefully our tips will help you create an effective way forward to boost productivity.
Here are 5 tips which will help you devise an effective to-do list:
Add a notes section
A notes section is a general area for all the tasks in your to-do list. Its main purpose is to provide you with space to add notes about your tasks. Or, instead you can use this area to type in challenges that you encountered when handling specific tasks.
On the flip side, it could also contain the best practices that you employed which enabled you to finish the task effectively and efficiently. These notes are important because by revisiting these jottings you can learn from them and be better able to optimize your way of doing things and your approach.
Prioritize
Ignoring client meetings because you're supposed to be fixing your cabinet, for example, based on what's written in your to-do list, is a sure fire way of negatively impacting your business.
Your to-do list needs to be devised in such a way that there is a clear sense of priority. The most important tasks should be added to the top most part of your list just to make sure that you don't miss these and they are tackled and completed first.
Break down your tasks to bite-size activities
Can you imagine writing down 'work' in your to-do list? Having a to-do list with broad topics like this won't help you in the slightest bit.
You need to break down your lists into more specific tasks so that they provide the clarity that you need to achieve. Here's a good example of a well-constructed list:
Send 20 outreach emails to prospects.
Discuss with the team the concept of having a systems' mindset.
Review the offer of client X and decide whether to accept it or not.
Notice how the examples above are more tangible compared to simply writing down 'work'? With a list like the one above, you should be able to comfortably tick each task with a clear idea of when it has been completed.
Add a deadline whenever possible
Adding a deadline helps you gauge your output. By being able to see whether you're lagging behind you can make any necessary changes.
A deadline also prevents you from procrastinating since you'll be more conscious of time and a definitive end point.
Be realistic
Adding a week's worth of tasks to your daily to-do list will just discourage and frustrate you.
Be as realistic as you can when writing up your list. If you honestly think that you can't finish all of the tasks within one day, then add some of them to the next. That way you won't be frustrated with a long list of tasks that you haven't completed at the end of each day.
If you are faced with productivity issues and are struggling to get the kind of output you're hoping for in your business, then put giving us a call at the top of your to-do list.