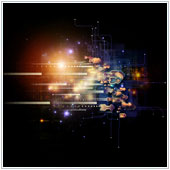 As computer technology continues to progress, small and large-scale businesses alike are now shifting to the cloud. It isn't just an out-of-the-blue hysteria, as the shift from the traditional file management systems to Web-based platforms have increasingly gained momentum over recent years. For business owners, this groundbreaking revolution is a significant development that maximizes the full potential of a business – big or small.
While there are a large number of cloud services available, not all of them will work well for your business. If you want to acquire the right cloud service for your business, here are four of the essential things you need to consider.
The files you want to store
When looking for a cloud service, you'll have to consider the types of files you want to store. There are certain criteria for each of type of file, in terms of the space it needs, the amount of security it has to be under, and the way you want these files to be accessed. In business, you need to be aware of these things before you start your search for the right file management system.
When it comes to making changes to documents there are services that support multiple versions of documents, so you don't need to worry about keeping all copies. Unlike your traditional file storage systems, many services don't completely overwrite your old files, as you make certain changes to them. Instead, they save multiple copies of your files, so you can retrieve the older copies later.
Auto-Sync feature
You may not be aware of this, but an auto-syncing feature is a big must for small businesses who are using cloud services. With this feature, you get to save your files and documents in real-time. Hence, you won't have to worry about losing the contents of your document with a power failure or when disaster strikes.
But sadly, not all cloud service providers offer an auto-syncing feature. This might be a challenge for business owners who are in the habit of forgetting to save and sync the modifications they make on their documents and other files. For that reason, it is best to know if the cloud service you are looking at has this feature available.
Level of security needed
In business, all of the data stored in cloud storage is likely very important and confidential. Hence, your cloud service must ensure that it offers geo redundancy of your data, in order to protect it from certain catastrophes like power outages. This means that the data is stored in separate locations and copies are stored in yet another location. So should one server go offline, your data is still available.
Furthermore, you must know if the cloud service provider offers genuine data encryption. As a business administrator fully encrypting your data will add an extra level of security so that only those people who have been given access rights can view the data.
Service delivery and business continuity
There is a fine line between the speed of service and the recovery from outages due to certain catastrophes. But these two should be considered as a major factor in choosing your cloud service provider. A higher service delivery, usually listed in a percentage or as uptime, will guarantee that the service will be available even if there is a disaster – something which many businesses should focus on.
Genuine cloud provider
You should know whether the cloud service provider actually has the proprietary rights to use this kind of service. The legitimacy of the service you are subscribing is necessary for the integrity of your business. This can usually be found by looking at the contracts or even the website where many companies will list themselves as partners with the specific vendor.
There's a lot to consider when choosing which cloud solution to go for considering the complexities of the process. If you find this a bit too overwhelming and you need someone to give you their expert advice about the matter, then call us now and we'll help you get started.