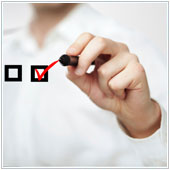 Keeping your inventory under control has never been so important. Customers aren't willing to settle for "close-enough" any longer. They can search the internet for exactly the model and features that they need and often purchase directly from the source.
The success of your retail, distribution or manufacturing business depends on having the right stock available when customers are ready to purchase. To improve your ability to respond and predict purchasers' behavior, you need to make the transition from inventory control to inventory management.
Inventory control versus inventory management
Most companies practice inventory control – handling the inventory that is already in your warehouse, stockroom or store. Through good inventory control practices, you know:
What products you have and how many of each item.
Where each piece of each product is located.
That inventory in salable condition.
Products are positioned to minimize the cost of filling customer orders.
Inventory management, on the other hand, is the process of sourcing and procuring each item to maximize profits. To optimize inventory, you need accurate forecasting and replenishment processes to ensure that you have the exact products customers want, when they are ready to purchase.
Optimize inventory management
Effective inventory management is based on analysis of purchasing trends over time and across customers. In order to continuously monitor those trends, the process should be automated through an ERP system that consolidates data from across the organization. Many ERP systems have forecasting functionality built in to simplify the process.
Relying on your "gut" to make inventory management decisions may have been good enough in the past, but purchasing behavior has changed. There are too many options for buyers to find exactly what they need with a simple search.
Let's talk about your inventory management challenges. We'll help you stay one step ahead with accurate forecasting through ERP.