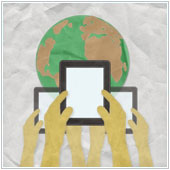 Mobile devices are a popular tool for many employees, most of whom will at some point use their device for a work-oriented task. In an effort to allow or address this many companies are adopting a BYOD (Bring Your Own Device) policy. There is another similar trend that is also gaining popularity, which is CYOD or Choose Your Own Device.
Below is a brief overview of BYOD and CYOD and the main differences between the two concepts.
BYOD
This is a policy companies adopt that allows employees to bring their own devices to the office and use them for work purposes. While the majority of these plans focus on mobile devices, there are some companies that even allow users to bring their own computers to work on in the office too.
The biggest benefit of adopting this policy is that it can save companies money, because the purchase and maintenance of devices is at the expense of the owner of the device, not the company. This can also lead to higher productivity as employees are using their own device which they are comfortable using.
On the other hand, the biggest drawback of this policy is that it does pose a potential security risk. Because users are accessing company networks and the sensitive data stored within them from their own devices, businesses may see an increase in security breaches. The other downside of BYOD is that it can be tough to control devices and restrict access to data. Companies adopting this policy need to ensure that they have a solid system in place that deals not only with security but how the devices are to be used.
CYOD
Where BYOD is a policy that allows users to bring their own devices to the office, CYOD is a policy that allows users to choose from a number of approved devices. Usually, the company provides these devices and keeps them if the employee leaves or resigns.
The biggest benefit of this type of policy is that you get to pick what devices to offer and also manage them. This means you can limit access to apps, information, and even certain functions. There is also a knock-on effect with this system too, in that your organization will generally be more secure because you manage the devices. You can install virus scanners and other programs that help ensure your networks and the info stored within are secure.
As with most things, there are downsides to this policy too. The biggest is that you likely won't save any money on hardware, largely because you will have to purchase and maintain this yourself. Another potential disadvantage is that your employees may not be happy with the choices on offer and may want to choose to use their own devices. While this isn't the biggest negative, it could lead to a decrease in productivity, or if employees use their own devices anyway it could create a potential security issue.
Which policy should companies adopt?
If you are choosing between the two policies you need to pick what suits your company and employees the best. If you are operating on a narrow budget and have older hardware it may be a good idea to look into a BYOD policy. On the other hand, if you are worried about security and ensuring that only approved apps are used a CYOD policy will be a better idea.
If you are looking to adopt a new policy, contact us today to see how we can help.