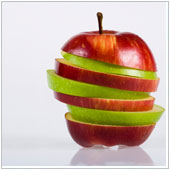 If you take a minute and look back at Apple in 2013, the year turned out to be a good year for the California tech giant. We saw the release of a brand new version of iOS, the cylindrical Mac Pro, and a number of new iPads. As we turn to 2014, many fans are wondering what developments and delights they can expect from Apple this year.
Here are four new developments we can expect to see from Apple this year:
A new OS X
With a new version of OS X released almost every year, you can expect a new version later this year as well. We predict that OS X will get a makeover, much like we saw with iOS 7. The current look of OS X hasn't really changed in a big way since the launch of the platform, and with the generally positive reception of iOS 7 you can bet that there will be a change to the OS X look this year too.
We predict that the company will release a version of OS X that looks more consistent with iOS 7. You can also bet that the popular features in iOS will likely make their way over to the desktop. This could include the ability to reach the most important settings quicker, and from one place. It will also likely include deeper integration with mobile platforms.
For businesses, the biggest issue will be getting your employees updated to the new version and used to it, while ensuring technology like projectors, servers, etc, will work with the new version. When it is announced, it might be a good idea to not upgrade until you are sure the new version will work with the other systems in your company and your employees are comfortable with it.
A bigger iPhone
Looking at the mobile market as a whole, the most obvious trend with Android and Windows Phone is that devices are getting bigger. When the iPhone first launched, a 4 inch screen was amazing, borderline huge. Now, it's widely considered to be small and the domain of lower-end phones.
One of the most common complaints of iPhone users is that the screen is too small when compared to other devices. Because of this we think that Apple will introduce an iPhone with a larger screen – probably around 5 inches – this year.
There is also rumor that the company has been testing a 6 inch screen, which would indicate a possible phablet (iPhone crossed with an iPad) in development. We doubt that this will happen this year, but it could be a possibility in the not so distant future.
What this means for businesses is that you will have a device with a bigger screen, which will allow you to do more. This could herald a great device for those who are out of the office on a regular basis and want to be able to send emails or check documents.
A new iPad
Both versions of the iPad – iPad Air and iPad mini – are popular products, and will continue to be so for the foreseeable future. Apple has done a good job of updating the platform on a near yearly basis, so you can expect new versions of existing iPads that will likely have improved hardware and possibly better storage.
If you take a look at Apple's laptops, you will notice that there is an iPad Air but no Pro. It is highly likely that Apple will launch an iPad Pro this year. In fact there are rumors that Apple are developing a 12 inch iPad which could very well be the Pro.
If this is true, we believe this will be a powerful device, probably on a par with the MacBook Air technical specifications-wise. It is highly likely that this will be aimed at power users, and those who want to replace their laptop with a tablet but also need a device that is powerful enough to do everything a laptop can do.
For businesses in certain industries, a larger, more powerful tablet could be exactly what they are looking for. Combine this with a keyboard and you will likely have a viable alternative to the laptop or even desktop. It might be a good idea to keep an ear out for iPad rumors in the coming months, as this one could very well prove to be true.
New Apple products
Apple's CEO Tim Cook noted towards the end of last year that the company will be releasing products in new categories. What this mean is anyone's guess, but it is highly likely that these products will be gadgets that are meant to compliment existing devices.
Some examples could be a smartwatch or even a TV with Apple TV built in. Regardless of what these new products turn out to be, there is a high chance that they won't be directly aimed at businesses. Where businesses will be affected is that these devices will likely come with the ability to connect to the Internet. This means that there will be even more devices connecting to your networks, and possibly increased security risks. It is worthwhile keeping tabs on these announcements and ensuring your systems will be protected when these devices are connected.
If you are looking to learn more about Apple's products and how they can be used in your organization in 2014 and beyond, contact us today for a chat.