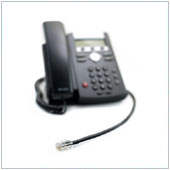 Telecommunication has changed drastically in the past decade. The main proponent of this change has been Voice over Internet Protocol (VoIP) which has allowed for traditional phone systems to converted to a digital system that has positively impacted the business environment. One of the main benefits VoIP brings businesses is a sheer number of features that don't normally cost extra.
Here are five VoIP features offered by many providers that small to medium businesses will benefit from.
1. Voicemail/call forwarding
Many smaller businesses simply can't be open 24 hours. This means that there will be time where you or your employees are unable to answer the phone. Most industry leading VoIP providers offer the ability to convert phone messages into emails, which could be a great help to your business.
A good VoIP solution will also provide you with a voicemail system and a feature called Find me/Follow me. This is a call forwarding feature that allows users to receive calls regardless of their location or phone number. This makes it easier for you and your managers to be reachable when they are outside of the office, especially if calls can be forwarded to their mobile phone.
2. DND
DND, or Do Not Disturb is an important feature for those who work with clients on a regular basis. When you are talking to a client, the last thing you want is to be interrupted by a phone call as it can make you look unprofessional.
Many VoIP systems actually offer advanced DND features like the ability to send calls to voicemail, or transfer to another colleague who may be able to answer the call at the press of a button.
3. Conferencing
You can pretty much guarantee that you will need to eventually make a conference call. Some managers and owners may even make this type of calls on a regular basis. The best VoIP systems go further than just supporting conference calls, they also enable users to send files, chat messages, collaborate on calendars, share presentations and even desktops. This is often called Unified Communications by many vendors.
4. Auto Attendant
This feature gives your business a bigger footprint by allowing you to setup multiple numbers in local areas, and have a menu system like many large companies. This means you can setup a system where a caller can easily get into contact with different departments, or even a live operator.
Some users don't like this feature because they see it as an impediment to immediate customer service – think of the last time you had to navigate a menu system over your phone? It really comes down to the preference of your company.
5. Call Recording
If your company operates in an industry that is regulated, you may need to record calls. Or, you may want to record calls to track customer satisfaction and questions. Regardless of your need, a good VoIP system will allow the user to easily record calls, often at the click of a mouse, and store them in an audio format that can be easily replayed later.
These are just five of many features offered by many VoIP providers. If you are looking for a new telecommunications solution, contact us today to see how we can help.