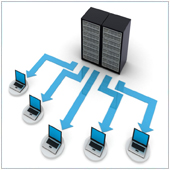 While being able to access your desktop while you're outside the office is an option you've had for a number of years, it's only now starting to really take off. This is made possible by companies like VMware who offer products that allow you to virtualize practically your whole business. One particularly useful product, View, has recently been updated and has had some useful features added.
For those who are unfamiliar with VMware, they're a leading virtualization company, whose solutions allow companies to virtualize any aspect of their business. One of their most popular products is View.
What is View?
VMware View, geared towards businesses, allows desktops to be virtualized. It essentially moves a user's desktop software, OS and essential programs, onto servers – in the cloud. Users use their physical system – mouse, keyboard, monitor and computer – to access their desktop via an Internet connection. If you've heard the term remote desktop, View is akin to that.
Updates to View
View was recently updated to version 5.1 and with the update, three new features were introduced that could be useful to small businesses.
Through a tool called Persona Management, users are now able to migrate their profile settings – desktop and application settings, user specific data and setups – from their physical desktop to their virtual desktop. If a user does not do a full virtual migration and keeps a physical copy of their desktop, any changes in settings will be synced automatically.
There's expanded coverage for USB peripherals like mice, printers and external hard drives. Before this update, if a user wanted to use a USB peripheral they had to have device drivers – software that allows the device to work with the OS – installed on their system. With the update, users don't need to have the drivers installed, and should be able to use most USB devices. The drivers are installed on the administrator's system instead.
Administrators can now monitor and analyze individual desktop performance through the use of dashboards. These dashboards will allow them to identify and resolve potential issues. This service is called vCenter Operations Manager for View, and is available as an add-on.
If you're interested in virtualization solutions for your company, or would like to learn about those offered by VMware, please contact us.