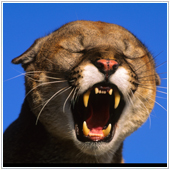 In 2011, Apple released OS X 10.7 "Lion" and businesses leapt at the chance to upgrade to a feature packed OS. Now, not much more than a year later, another version of OS X, Mountain Lion, is on the way. A collective groan could almost be heard from small businesses who use Macs when it was announced, but fear not, there have been some great features announced that will make the upgrade worth it.
Here are four features of Mountain Lion that small business employees will find useful:
Enhanced communication and social media
If you use OS X to access and monitor your social media accounts you'll be interested to know that you'll have the ability to post directly to Twitter from various apps. If you use iChat, it will be renamed: Messages. With it, you'll be able to send messages, pictures and videos to other iChat/Messages users, regardless of the device. This could be a beneficial external and internal collaboration tool due to the growing amount of Apple users.
AirPlay mirroring
If you or someone in your company gives a lot of presentations, Macs running Mountain Lion will have the ability to wirelessly broadcast whatever is being shown on the screen. To share your screen with an HDTV or Projector, you'll need to have an Apple TV box. It works by streaming content to the TV box which is connected via an HDMI cord to the TV or projector.
Gatekeeper
Security is top-of-mind for companies these days, and Gatekeeper is an extra level that businesses can implement. Its purpose is to restrict the apps that can be downloaded and installed on your computer. While many businesses should have measures like this in place, this app can act as another layer to ensure an even more secure organization.
iCloud
Possibly the biggest trend in small business computing is the integration of cloud storage. Apple's cloud storage service, iCloud, will play a prominent role in Mountain Lion, especially for businesses. With this feature, employees will be able to access data stored in the cloud using Apple's different devices. Any changes made to documents stored in the cloud will be automatically updated in realtime, without the user having to save and update.
Mountain Lion is shaping up to be one of the best versions of OS X to date. There are numerous features that users will find appealing, and many businesses are eager for the retail release. A word of warning though, while a version of Mountain Lion is available to download, it's an unfinished product and as such, we recommend that you hold off from installing it onto your business's computers. If you'd like to prepare your systems for the OS, please contact us.